Background and Philosophy
Sarah Gibson lives with her husband, three dogs, four horses and a variety of free-range chickens in Saint Ignatius, MT. The MT Dog Ranch welcomed its first guests in January of 2010 after 6 months of planning and hard work.
Sarah began her career in training and sheltering dogs in 1999. While volunteering for the Missoula Humane Society (Humane Society of Western MT), she participated in the Paws Ahead shelter dog training program designed to give shelter dogs an introduction to basic manners. The next year she joined the staff of the Humane Society and assumed management of the Paws Ahead program. It was during this time she realized that just a little training greatly improved a dog's chances of adoption. She also recognized that had these dogs received training prior to their arrival at the shelter, they may never have been surrended in the first place.
In 2002 Sarah interned with dog trainer, author and contributing trainer to the Whole Dog Journal, Pat Miller. In February of 2003, after several years of training shelter dogs and teaching outreach classes for the shelter, Sarah began offering group classes and private lessons to dog owners in Missoula. Because she believes that dog training professionals should possess a skill set that can be quantified and held to a high standard, Sarah has since been certified with the Certification Council for Professional Dog Trainers (www.ccpdt.org).
Sarah has continued her education in dog behavior, and remains current with the science of dog training by maintaining a professional membership with the Association of Pet Dog Trainers (www.apdt.com). The APDT offers national conferences each year where dog training professionals can learn from top trainers and academics in the field. It is in this setting that trainers can bounce ideas off of fellow trainers, compare training strategies and gain new perspectives on universal training challenges. Sarah was awarded the 2006 APDT Premier Shelter Award in recognition of her work introducing volunteers to shelter dog training.
In addition to having the opportunity to work with hundreds of dogs, the shelter provided Sarah a unique perspective on housing and boarding dogs. Traditional kennels can be a stressful environment, especially for family dogs who are used to home surroundings. Progressive thinking and practices applied to kennel design can alleviate much of that stress. Sarah has incorporated many elements taken from her shelter experience, training and behavior study into the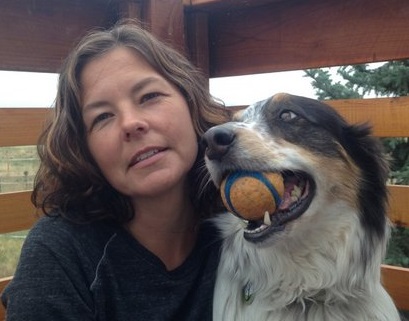 MT Dog Ranch boarding facility. Features include limiting housing to a small number of dogs, building solid barriers between runs to discourage fence fighting, supplying elevated beds in "room like" pods, and providing individual attention to each and every dog in her care.
From the beginning clients have given us positive feedback, reporting their dogs are happier and more relaxed upon returning home from the MT Dog Ranch than following a stay at a traditional kennel. Through Sarah's background in training and her dedication to the well-being of all canine companions, she feels confident you and your dog will have an equally great experience.